Onboards.
The classic for driving scenes, we are rigging fixed camera settings in exciting perspectives. From DSLR to high end setups like here e.g. the Alexa Mini.

Tracking shots.

Wherever the drone can not or should not be used, we can offer professional rigged driving shots. With our rigging accessories we make almost every vehicle a tracking vehicle. With a few simple steps, we can quickly convert the entire gimbal setup (Gremsy H16, Ronin MX) from the drone to the shock absorber (Hybris). Therefore, we offer here effective combinations. For heavier camera setups up to 13.6 kg the DJI Ronin 2 is used.
Mini X7-Rig

DJI developed with the X7 a very great camera. Unfortunately, DJI is not providing any tool beside the Inspire 2 drone, to use the X7 camera on the ground. That's why we decide to build our own system for using the DJI X7 camera also for tracking shots. The X7-rig has a weight of about 2,2kg (old version), the new version is just 1,49kg – ready to shoot. This is the smallest remote head in the world, which is able to shoot up to 6K DNG RAW, including changeable lenses.

Mini Towercam with X7-Rig
Our self-built Mini DJI X7 Towercam is designt for small production teams or special operations. With a weight of 2 kg, the camera unit can be rigged very quickly and easily. Here we can shoot with up to 6K DNG RAW (DJI X7 or X5s). We built our own light weight towercam for the X7-Rig (2m movement).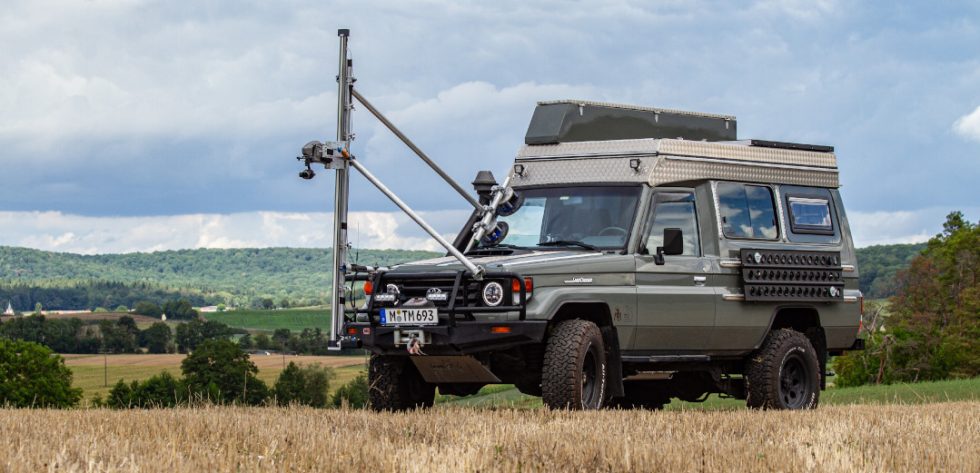 PackshotCam.
Our towercam is also a great tool for packshots. There we can use it as a jib arm or as a slider. Our special PackshotCam includes also an extended pole, so we can move the camera even though the smallest gaps without being interfered with by any slider rails.
Rc Car.
Exciting perspectives are offered by our remote-controlled RC Car:
Dynamic low-angle shots with free 360° field of view.
In addition to the use of cinema cameras, the RC Car is also a powerful tool for moving 360 ° shots.
CableCam.
Mini rope cam for our ultra light X7-Rig. Reday to shoot including the cable cam just 2kg!